restore your body & soul
SPA SERVICES
SOULFUL EXPERIENCES
Our in house spa offers a range of massage, reflexology and facial services that will restore both your body and soul to help you prepare for another amazing day in paradise.
In addition to traditional massage services offered by our professional therapists, we are known for our unique Mayan Healing treatments that incorporate both traditional practices with more modern massage techniques... offering a truly unique, once in a lifetime, Tulum experience. Whatever treatment you choose you will be sure to come away feeling relaxed and refreshed.
Special Treatments
Soul Services|Sweat Lodge
|Tarot|Sound Healing|Egg Cleansing|Mayan Clay treatment
Sweat Lodge - Temazcal
A traditional ritual practiced by Toltecs, Mayans and Zapotecs that takes place in a handmade stone like dome with a focus on reflection and gaining self awareness. Led by a shaman, you sit in a circle with hot stones heated by a wooden fire. Fresh herbs, chanting, mantras and good intentions fill the air as you release, renew and refocus your energy. tema comes from the word bath and calli, meaning stone.
Mayan Clay Meditation Ritual
Done beachside this is more of a ceremony focusing on letting go of the old, to make room for the new. The mineral rich locally sourced Mayan clay starts with an explanation, followed by a self application, then a beachside meditation, and is then followed with a swim in the beautiful Caribbean sea. It leaves people feeling deeply connected to themselves and ready to move forward with love and certainty.
Imagine having therapy done to you with cards. A one on one session with a gentle, nurturing intuitive who will lead you on a journey of self discovery through the cards. Perfect for anyone looking to gain clarity and new perspective.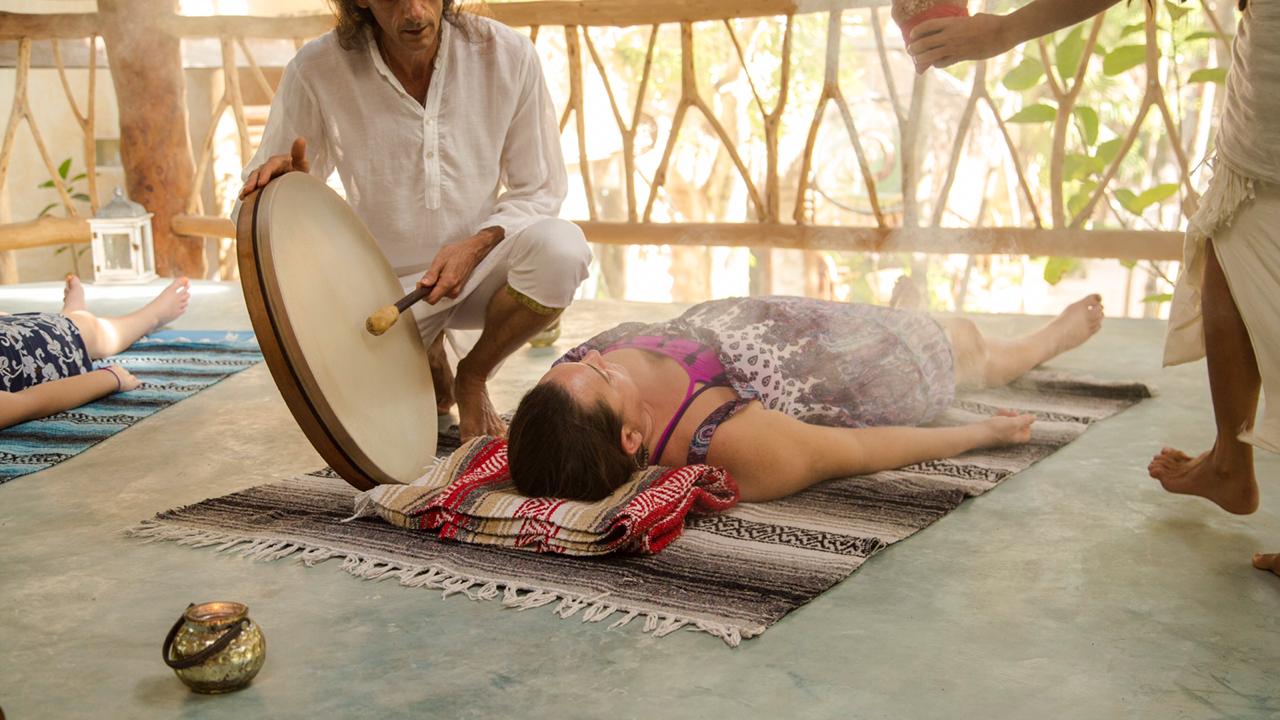 Imagine having music played to your entire being. Imagine music massaging you from the inside out as you lay in a circle surrounding by love and light emanating from harps, flutes, drums and crystal bowls. The music evokes an inner peace as you take an inward journey that leaves you feeling blissful and tuned, from the inside out.
Meet some of our therapist
MAYAN ABDOMINAL MASSAGE
A massage treatment that uses the Arvigo Techniques of Maya Abdominal Therapy to create movement in the abdominal area known to stimulate digestion and aid with IBS and other abdominal issues. Includes a full body massage.
SHAMANIC EGG CLEANSE (LIMPIA DE HUEVOS)
A unique shamanic healing form which use an egg and smoke to energetically cleanse a client's aura and to help them on their healing path. After a session, the egg is dropped into water and read. True deers have the ability to see the client, enabling the seer to facilitate the client's understanding and ability to work with their own life issues.
BODY MEMORY RELEASE AND LYMPHATIC MASSAGE
This technique uses holistic massage based on science, including deep tissue and hydrotherapy. Incorporating acupressure to influence power lines, activate and balance internal organs and to achieve a balance between mind, body and spirit, further connecting the patient to themselves. Closing rituals often involve amber from Chiapas, mocsa, eagle feathers and wisdom gained from the Huichol tradition,
leaving your energy channels cleansed and your body refreshed.
HIHAX-MIIHAX MASSAGE
Inspired in the ancient knowledge of body memory developed by the Comca'ac culture*, combined with Ayurvedic, Thai and Deep Tissue massage techniques, Hihax-Miihax therapy brings awareness on how feelings and patters of behavior can affect your body, showing you what hides underneath the symptoms of sickness and pain.
This powerful technique opens a natural flow of energy that will make you feel renovated and calm. Mexican mysterious and enclosed Culture from Sonora's Desert. Their health wisdom is based on their observations of nature and bio-social aspects of the being.
THE TAU(SUN) HEALING
Working with the body, mind and soul as unity incorporating a powerful deep full body massage with local oils, essences, fresh herbs and sacred chants and music dedicated to open and release body tensions for emotional discharge to clean and restore the free energy flow and field, recovering the balance to let the spirit bloom to self discover and self healing
Included in all of our signature wellness retreats: Two 55 min Therapeutic Treatments
Two one Hour massages included - you may upgrade to a Mayan Healing service for $45 extra or book an extra service and pamper yourself. In addition to traditional massages we are known for our unique Mayan Healing treatments that incorporate both traditional practices with a hands on massage offering a truly unique Tulum experience.